Archived podcast for paid Subscribers only. Please login to access.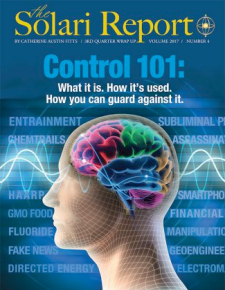 The free feed is not streaming. Listen on our YouTube channel or one of the other options listed below.
Mind bending interview with Solari Reports publisher Catherine Austin Fitts. Catherine is at her most provocative and insightful in this terrific discussion with Whitley. They talk about everything from the trillions of dollars that the Pentagon keeps losing to the fact that money isn't really money any more, to how artificial intelligence is going to affect our lives.
BUT THEN here comes one of the scariest, smartest and best informed takes on things like mind control and brain-entraining technology, the deep state, the breakaway civilization, the Space Force and even why the USAF stood down 4 times during 911!
Boggling and amazing. Period.

Go to the Solari Report to get involved with the visionary work of Catherine Austin Fitts.
To learn more about the missing money, go to Solari's Missing Money page. Click here.
During the discussion of pulsed-beam weapons and fires, Whitley mentions a video taken from the Space Shuttle on Mission STS 48 in 1991. This video appears to show a pulse energy rising up from the ground that causes an unknown object to veer off course to avoid it. To watch, click here.
To listen on TuneIn Radio, click here or search Dreamland in the TuneIn app.
To listen on Alexa, say, "Alexa, play Dreamland Podcast."
To listen on the Paranormal Radio feed, click here. You can get the Paranormal Radio app from the Apple and Android app stores. Scroll down in the app to the Dreamland podcast.
You can also listen to the free version of the show on our YouTube channel. Click here. Should the subscriber stream become unplayable, subscribers please navigate to the subscriber area. You will find the subscriber YouTube feed under Videos.

Dreamland Video podcast
To watch the FREE video version on YouTube,
click here
.
Subscribers, to watch the subscriber version of the video, first log in then click on Dreamland Subscriber-Only Video Podcast link.