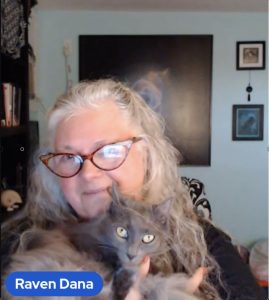 Whitley has had some really scary things happen recently, and there is no doubt of their high strangeness origin. He's been feeling desperate–and when you hear why, you'll definitely agree. But what to do about it? Enter Raven Dana. Raven is an old friend of the Striebers, author, life coach and explorer of the world's mysteries. She was originally found by Anne after she wrote a letter about her experiences in response to Communion. She was invited up to the Strieber cabin and had a now-famous contact experience, which she reflects on in this interview, and is also described here.
Raven then talks about her recent experiences, and the strange synchronicity that occurred involving a cat appearing on her doorstep at the same time as Whitley was compelled to call her and interview her. Whitley discusses his terrifying recent experience of his own and Raven shares her method of creating protection..and that cat seems to be somehow involved.
This is an extremely unusual show, filled with Raven's wisdom and insightful discussions of some profound and powerful experiences. One comment provides a window into just how profound this discussion is: "what we call aliens live in the fringe of where our consciousness can go". That fringe is a place of great knowledge–but also sometimes great danger. Fasten your seatbelts for this one, folks, it is WILD!
You can connect with Raven on RavenDana.com.
Not an Unknowncountry subscriber? Click here to find out how easy and inexpensive it is to join us!
Dreamland Video podcast
To watch the FREE video version on YouTube,
click here
.
Subscribers, to watch the subscriber version of the video, first log in then click on Dreamland Subscriber-Only Video Podcast link.