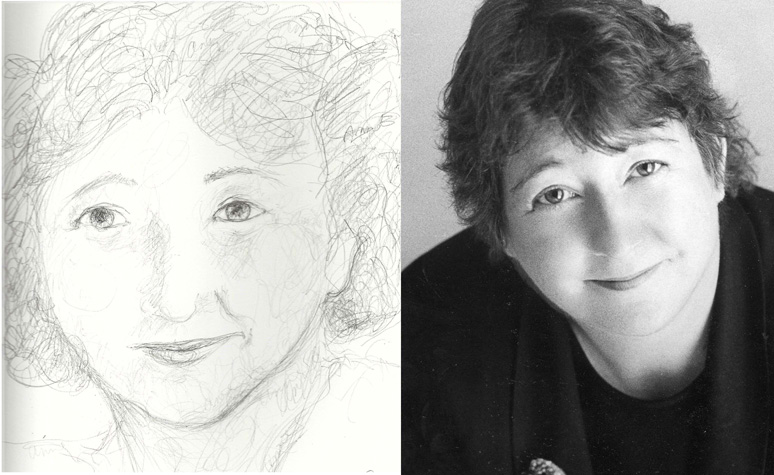 From Whitley:
I think that I got another communication from Anne. I have tried to reproduce it as best I am able. My impression is that she, or the soul who she is now, is available to anybody who wants to engage, and the brief diary entry below sets outlines what is on offer and how to take advantage of it.
This started with a sudden upsurge of people reporting communications with her. In particular, one individual who has had clear communication from her before now reported, during the time that other people were writing me about getting communications from her, that something had happened to her that seemed to indicate Anne's presence. (The images above have a related history. The drawing on the left was a face seen by this psychic. She eventually drew it and sent the drawing to my Super Natural co-author Jeff Kripal, who didn't recognize it. He sent it to Diana Pasulka (American Cosmic) who realized it was Anne. They then sent it to me and I saw that it was very close to a portrait of Anne taken by Timothy Greenfield-Sanders, which had not then been published.
To me, this was a very powerful psychic hit. Anne was communicating very clearly!
Given all the people who were saying that they were hearing from Anne, asked this psychic to see if she could pick up anything from her. She soon wrote back: "I am seeing fairy lights, not like Tinkerbelle, but more like tiny, glowing moths."
Then something quite amazing happened.
At approximately the same time that I read that email, I got a message from my bedroom surveillance camera that it had detected movement. (I was traveling at the time. That camera is not generally on when I'm at home.) I looked at the clip, with the result that you see here. A tiny, glowing white moth flies out into the center of the room, stops, and just disappears. It would seem that the psychic had a direct hit with her email, and the timing was amazing. (This type of appearance and on-camera disappearance has happened a number of times.
But, given that, as she said while we were writing Afterlife Revolution, "I'm not Anne anymore, but I'll always be Anne for you," who wants to engage in this communication and why? If Anne isn't Anne, then who is she?
To understand this, we need to think in a new (and very old) way about communication between body and soul. I think that a video I made about a little pre-Columbian statuette from Mexico owned by Mark Sims shows the relationship body-soul explains it well. You can watch that here. (4 minutes.)
Now, after that long introduction, let me go on to what I picked up from Anne—or rather, the soul that created Anne and now contains her life.
From Anne:
"I stand ready to teach and I can teach. I am not a channel, however. I will not be a spirit guide. I will not give you advice about your material life. But I will help you in your inner journey. Let me show you what I can do with an example.
"Yesterday, Whitley was thinking of himself as a ne'er do well. In his secret life, he has a desperation because he set out years ago to make contact with the element he calls this visitors. This has not been possible for him and he feels himself a failure. He sees what will happen to the world, and his vision has been very accurate most of his life, but all of his efforts—his books, his public appearances and so forth—have not succeeded in changing a thing."
"Now, I wanted to communicate with him about this. I could not make him hear me, so I tried to enter his dream life. To do this, I had to pull from his experience of life things that made sense to him that were related. But there was nothing directly related to what I wanted to say. I tried to talk to him about communication. This caused his dream to take him to memories of being an advertising man. When I tried to talk about his idea of being a ne'er do well, his dream turned him into an advertising man called Conrad. When he woke up, he wondered who Conrad was. Why would he call himself Conrad?"
"He is on vacation and has been reading a mystery in which there is a character called Conrad who is described in the book as a ne'er do well. In order to get him thinking in the right direction, that's what I had to pull from him. Working with people's dreams is like trying to draw a picture in water. It is very hard, working with dreams, to do anything that has a lasting effect. But when he finally understood that his dream was about what he regards as his ineffective communication, he also realized that his visitors cannot connect with you until what is necessary is more clearly understood."
"There are still lots of people shooting guns at them. Talk about useless. Now let me talk about how it feels from our side to communicate with you. First, we have all done this many times before. The bodies—for that's what we call you, "the bodies," are facing into the stream of time. We are above that stream."
"Whitley made a video that shows very clearly the relationship between us and you. It shows one of us—a soul—cradling one of you—a body. You are faced into the time stream and we are looking up into ascension. We are trying to take a journey toward the weightless state known as ecstasy. This weightlessness is not something physical. It is an absence of regrets. If there is nothing binding the soul, it ascends forever."
"This is our aim, but we cannot fulfill it directly. We cannot participate in your lives directly. If we did, you would see beyond the time stream and could not live a spontaneous life. Your life would cease to have meaning and would be useless to our own journey."
"You are not in the habit of understanding the true scale of being. Remember that each of you belongs to one of us, and sometimes more than one of us. We can have two bodies, three bodies, more bodies, and not necessarily on the same planet even or in the same reality, and not necessarily all intelligent creatures. We can build weaves of lives and live them all at once. Some of us are better at this than others. Some are beginners, with only one or two lives. Others are masters, with many lives over many eons."
"I am a teacher, but how can I teach you? Get into a meditative stance and just open your mind. I can come to you because I know how to teach. The soul that cradles you can also teach you, but not if you seek guidance or advice about you everyday life. We will not be guides, but there can still be a change. You can become a richer source of life."
"The little statue Whitley has shows the soul cradling the body. This is the real relationship. This is how it feels. You're very close and cradling you in arms of love that extend into your lives from outside of time."
"What I can teach is how to live so that your life experience, every moment of it, enriches your soul."
Dreamland Video podcast
To watch the FREE video version on YouTube,
click here
.
Subscribers, to watch the subscriber version of the video, first log in then click on Dreamland Subscriber-Only Video Podcast link.